Rome City Breaks
City Breaks to Rome - Capital of Italy and the country's largest city, Rome is filled with relics, dating back some 2000 years which provide a timeless fascination for its countless visitors. The streets contain reminders of all the eras in Rome's rich history from the mighty Colosseum to the ancient Roman Forum.
The Via del Corso, Rome's main thoroughfare, cuts through the length of the city centre from Piazza Venezia in the south, with the vast marble Vittorio Emanuele Monument, to emerge in Piazza del Popolo in the north, beyond which lies the cool green refuge of the Villa Borghese.
East of Via de Corso lies the elegant shopping streets including Via Borgognona and Via Condotti, which lead up to Piazza di Spagna (the famous Spanish Steps). West of Via del Corso, a maze of narrow streets winds its way down to the river Tiber. Moving south, the district of Trastevere is the city's alternative focus and home to numerous bars, restaurants and nightclubs.
All our city breaks to Rome include centrally located hotels so search online now!
---
Did you know...?
Modern Rome has 280 fountains and more than 900 churches
Nearly 700,000 euros worth of coins are tossed into Rome's Trevi Fountain each year, and are donated to charity
The first ever shopping mall was built in Rome between 107 and 110 AD by Emperor Trajan
Rome has a museum dedicated entirely to pasta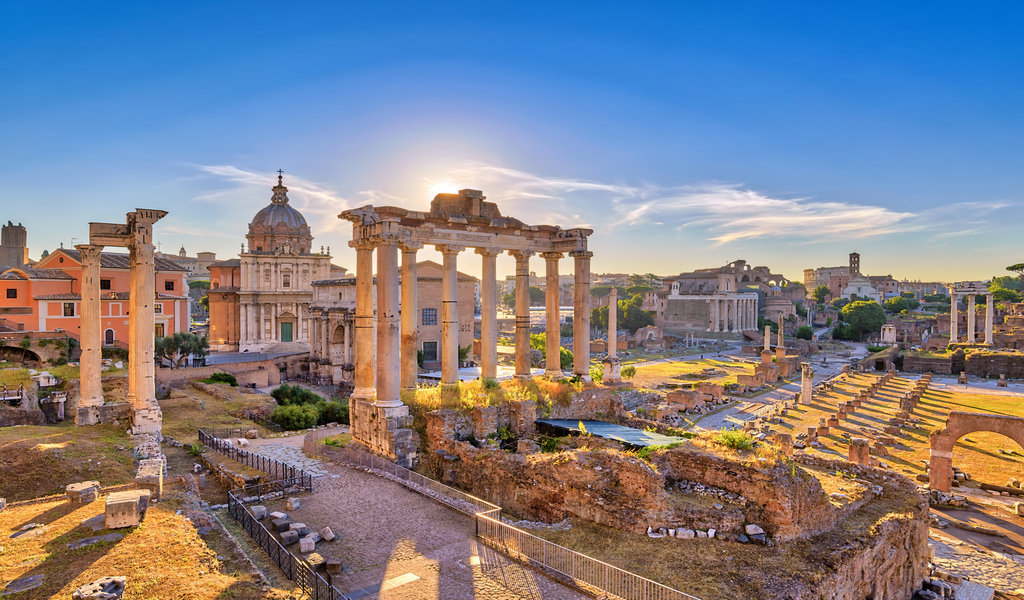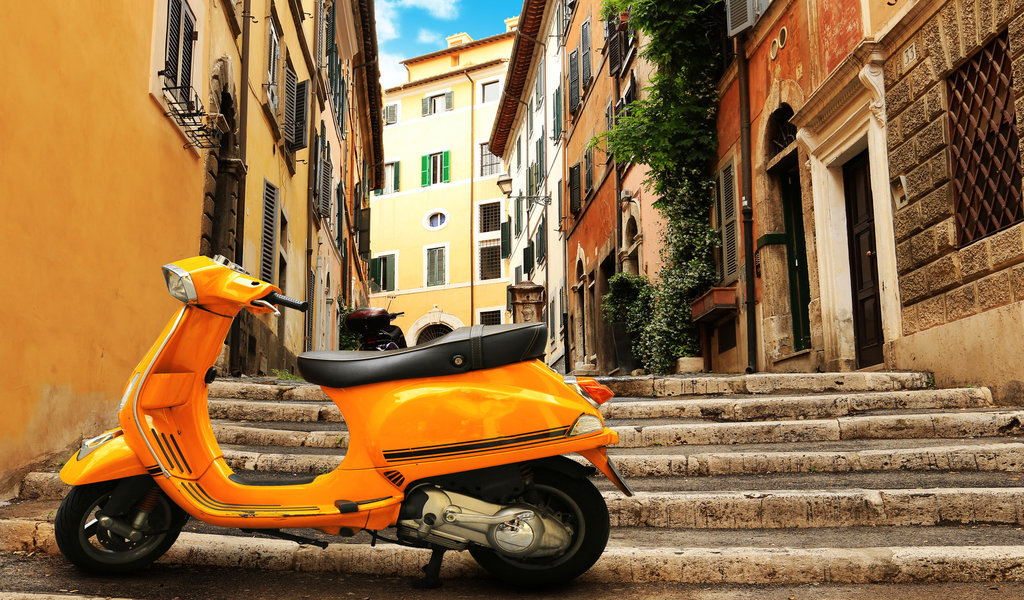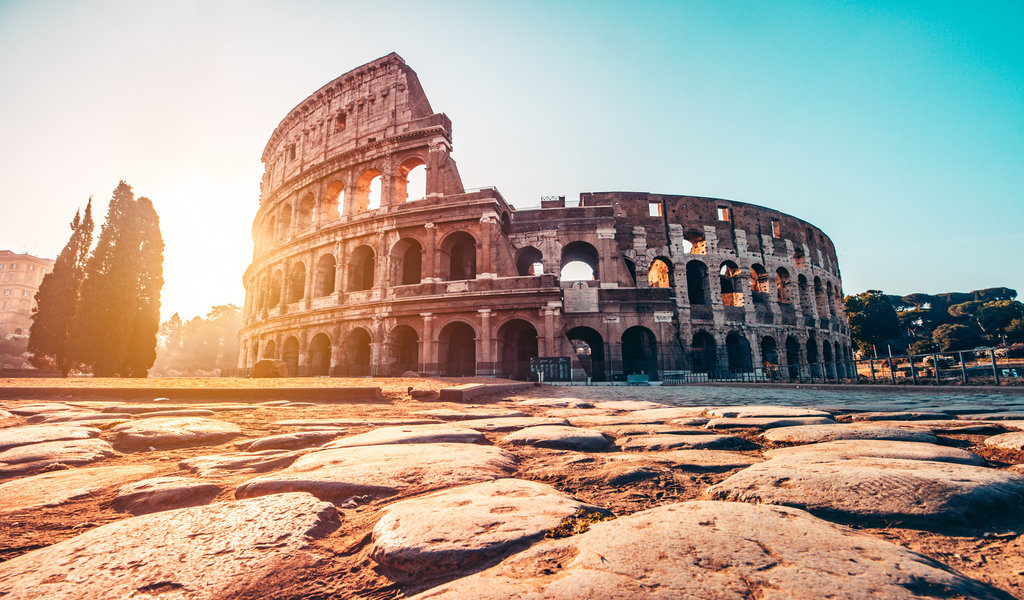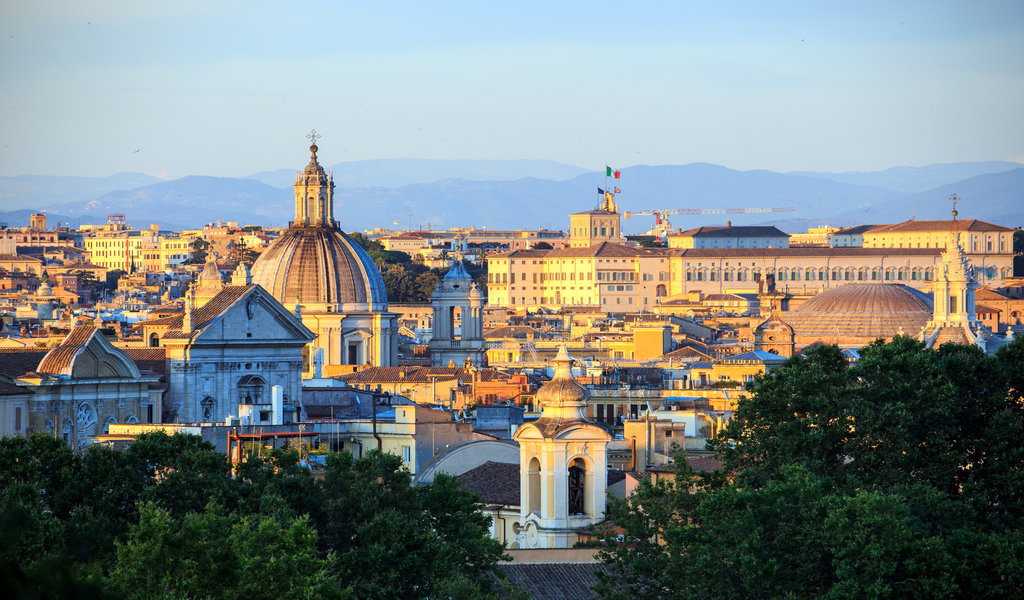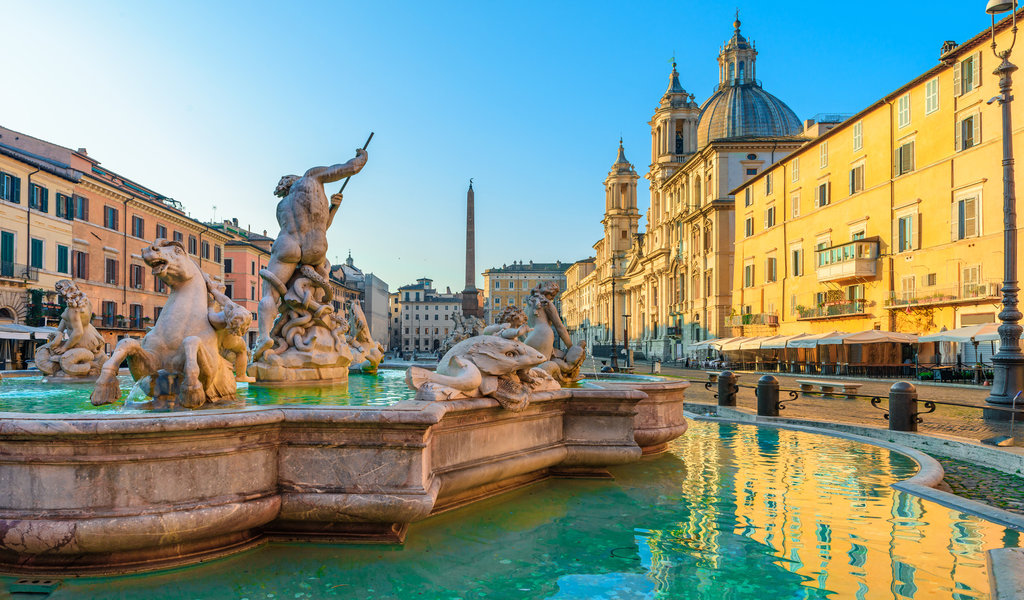 Top Reasons to Visit Rome
---

Ancient Historical Arts & Landmarks

---

World Class Cuisine & Hip Local Culture

---

Incredible Artistic & Architectural Sights
Ancient Historical Arts & Landmarks
Colosseum, Roman Forum and Palatine Hill: The Colosseum is a masterpiece, and the Roman Forum and Palatine Hill just next to it constitute three sites that you just shouldn't miss. Take a guided tour of these ancient ruins, monuments, and landmarks brimming with thousands of years of history.
Visit the Pantheon: The Pantheon is the burial place of Rome's kings and other important figures. It is the best-preserved monument of Imperial Rome. Head inside and gaze up to see the open oculus with sunlight streaming in.
Galleria Borghese museum: Established in 1903, the Villa Borghese nowadays hosts a museum exhibiting preserved sculptures, paintings, relics, and ancient mosaics. Aside from the museum, you will find the outstanding Borghese villa gardens, which is the third-largest park in Rome.
World Class Cuisine & Hip Local Culture
Trastevere Quarter: Here you will find a total different atmosphere than the historic and religious places around Rome. Trastevere Square is rather bohemian and hip, and it's a great place for a night out. Narrow streets wind through ancient houses, guiding you through an especially charming part of Rome.
Piazza Navona: This baroque square is lined with shops, cafes, restaurants, and, of course, gelaterias. Inside the Palazzo Braschi, you'll find the famous Museo di Roma and the famous Fiumi Fountain.
Italian Food: What would a trip to Italy be without eating some of the best food in the world? Have some real gelato, eat as much pizza as you can, and try ragù alla Bolognese or spaghetti alla carbonara. To gain real insider knowledge, consider signing up for a cooking class in the city.
Incredible Artistic & Architectural Sights
Vatican City: Vatican City is a tiny country within a country! It is home to St. Peter's Basilica, the Sistine Chapel by Michelangelo, as well as tons of other museums you can get lost in. Hopping on a guided tour may be the best way to learn everything you can about the pristine city.
St. Peter's Basilica: Located inside Vatican City, St. Peter's Basilica is not only a sacred religious site, but features breathtaking architecture and countless works of art, ensuring that there's something for everyone. Get a glimpse of the interior, and stroll around its impressive Square.
Spanish steps: In order to connect Piazza di Spagna and Piazza Trinità dei Monti, the 135 Spanish steps were constructed in 1725. Climb up the stairs for a great view, and if you have time, head into the Trinità dei Monti church.
Trevi Fountain: Though it is a touristy spot, it's something that shouldn't be missed, especially on your first visit to Rome. Some legends say if you throw in a coin and make a wish, your wish is bound to come true. Others say it means you'll certainly return to Rome one day. For minimal crowds go early in the morning or later in the night.
See Modern Art at MAXXI: With so much baroque architecture pervading the city, people might forget that there's more to see than just the baroque style. Inside MAXXI, you'll find the best of modern and contemporary art. The building is also a masterpiece itself, with lots of glass windows and big open spaces.
The Views: Constructed on 7 hills, it goes without saying that there are loads of places for good views in Rome. Head up to the top of Castel Sant'Angelo or to Janiculum Terrace for some of the best vantage points to admire the cityscape.
---
Rome Airport Transfers & Weather
AIRPORT: Fuimicino Airport
TRAIN
There is a train station located within the airport and the Leonardo Express Airport Train will take you to the city centre in about 30 minutes. It departs every 15 minutes and goes directly to Termini Station. The trip costs about €14 per journey.
The Local Train FR1 stops at Trastevere, Ostiense and Tiburtini, and is about 55-journey into the centre. The train departs every 15 minutes and costs approximately €8 per journey.
BUS
The Bus station is located west of Terminal 3. You can take the Rome Airport Bus Terravision which offers direct service to Termini Station. The journey takes about 55 minutes, and the bus departs every 45 minutes. The cost is approximately €6 per journey.
PRIVATE TRANSFER
A private transfer takes about 40min to the centre of the city and costs about €52pp for a return transfer based on 2 sharing.
* Prices and times for transport from the airport are subject to change
Average temperature
| | | | | | | | | | | | | |
| --- | --- | --- | --- | --- | --- | --- | --- | --- | --- | --- | --- | --- |
| | Jan | Feb | Mar | Apr | May | Jun | Jul | Aug | Sep | Oct | Nov | Dec |
| | J | F | M | A | M | J | J | A | S | O | N | D |
| high | 13 | 14 | 17 | 20 | 24 | 29 | 32 | 30 | 27 | 23 | 18 | 15 |
| low | 3 | 3 | 6 | 8 | 13 | 17 | 19 | 18 | 16 | 12 | 8 | 4 |
---
Top Tourist Attractions in Rome