Tenerife holidays
Tenerife is an island with great local cities, small fishing towns such as Puerto Santiago, vibrant resorts, and beaches that stretch for miles. With a distinct north "face" and south "face" in terms of landscape and infrastructure, the island is a fabulous escape for those who want to relax, those who want to explore, those who want to party and everyone in between. Affordable Tenerife holidays include the resorts of Costa Adeje, Los Cristianos, Playa de las Americas and Puerto Santiago.
Tenerife is actually the largest and most populated of the Canary Islands. It is also the most visited of the seven, with around five million tourists venturing there each year. Tenerife is one of the most important destinations in Spain, and generates the most revenue from tourism out of all the Canary Islands. It's also home to one of the world's largest carnivals, the Carnival of Santa Cruz de Tenerife which is held each February in the island's capital city.
Teide National Park located in the centre of the island is an UNESCO World Heritage Site. Mount Teide reaches the highest elevation in both Spain and the islands in the Atlantic Ocean, and is the third largest volcano in the world. From the year-round sun and spectacular beaches to its unique natural wonders, there are so many reasons to consider a holiday in Tenerife.
---
Did You Know...?
43% of the entire Canary Islands population live on the island
Mount Teide casts the largest sea shadow in the world.
Tenerife's flag is the same as Scotland's.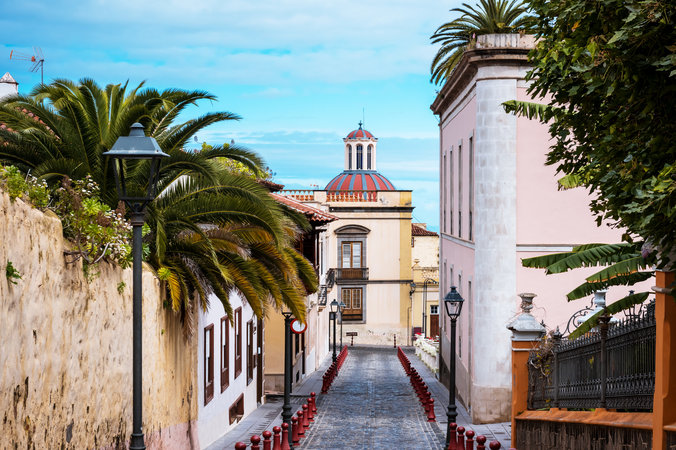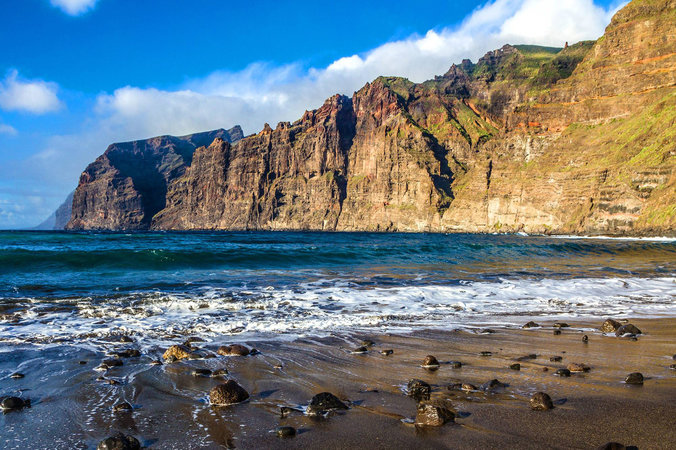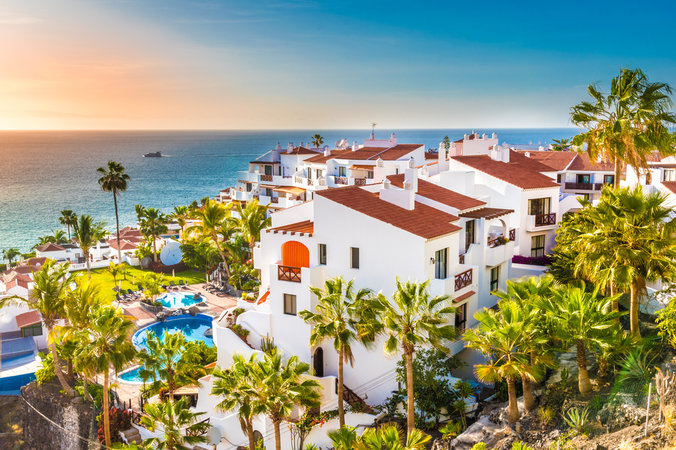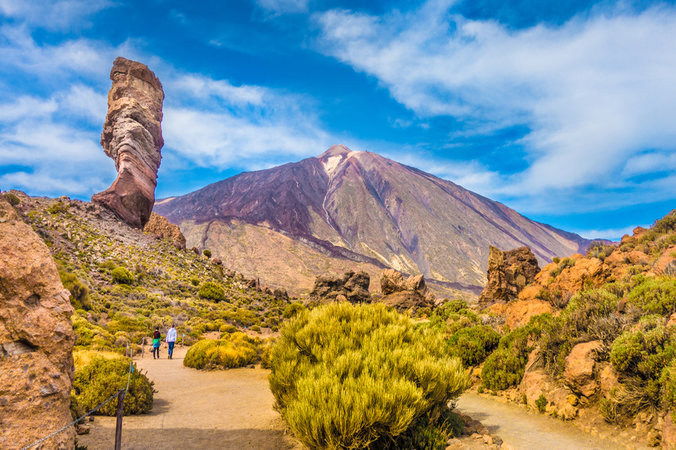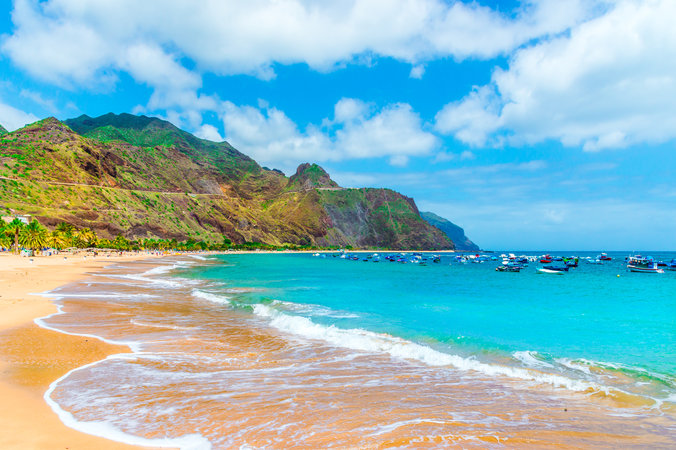 Top Reasons to Visit Tenerife
---

The Best Beaches

---

Family-Friendly Activities

---

Cultural Spots & Natural Wonders
La Tejita: This spectacular beach on the southern part of the island stretches over a kilometre in length and features natural black sand and The Red Mountain, a stunning volcano, beside it.
El Bollullo: On the north side of Tenerife, El Bollullo is a local favourite and off-the-beaten track option. It features natural dark sand, cliffside views, and a nearby traditional tapas restaurant.
Fañabé: This light sand beach is one of the most popular for tourists on the southern side of Tenerife. Here you'll find convenient amenities right on the beach like showers, sun loungers, toilets, and watersports services.
Playa Jardín: In the Puerto de la Cruz tourist area, this traditional black sand beach has been artistically decorated with bright flowers and lush trees.
Playa del Duque: In the Costa Adeje area, Playa del Duque is a classy, soft-sand beach with lots of sun loungers and beautiful tropical gardens.
Los Gigantes: These are enormous cliffs, reaching a height of 800 metres, which are visible from Los Gigantes Beach, or Playa Los Guios. The beach has natural black volcanic sand, calm waters, and great amenities such as sun beds, umbrellas, and small bars and restaurants in the area.
Las Vistas: This beach is unique not only for the golden colour of its sand but also for its accessibility. Ramps have been added throughout the beach to maximise mobility as well as onsite toilets, showers, and beach equipment for rent.
Piscinas Naturales El Caletón: For something different, check out these natural "pools" formed by volcanic rock with calm waters ideal for swimming.
Family-Friendly Activities
Siam Park: A Thai-inspired waterpark with thrilling adventure slides and attractions for people of all ages, Siam Park is Tenerife's biggest and best theme park.
Whale and Dolphin Watching: Nearly 30 species of whales and dolphins frequent the waters between Tenerife and La Gomera, and you can hop on one of the daily excursions from Los Gigantes or Los Cristianos.
Camel Rides: Camel Park is the original centre to meet, interact with, and ride camels in Tenerife. Kids will love to see these friendly animals and explore the rugged landscape in such a unique way!
Butterfly Farm: In the northern town of Icod de los Vinos, you'll find the Butterfly Park, home to a stunning 800 exotic butterflies that will have you amazed.
Pueblo Chico: An unusual discovery park in La Orotava, families can explore 20,000 square metres of miniature towns, gardens, and landscapes showcasing the iconic architecture and nature of the Canaries.
Museum of Science and the Cosmos: This museum combines elements of a traditional museum and a theme park to form an interactive experience all about the workings of the natural world.
Submarine Tours: Submarine Safaris offer a once-in-a-lifetime opportunity to take an underwater tour of Tenerife in a real submarine!
Lago Martiánez: Designed by famed Lanzarote architect Cesar Manrique, the Lago Martiánez is an intricate complex of beautiful pools, gardens, and restaurants in Puerto de la Cruz.
Cultural Spots & Natural Wonders
Teide National Park: This UNESCO World Heritage site dominates the centre of the island with a 16km-wide crater and Spain's highest peak- Mount Teide.
Santa Cruz de Tenerife :The island's vibrant capital city is a great place to take a historical tour, try tapas of every kind, and shop for gifts and souvenirs.
Los Cristianos: This southern coastal town features a great promenade, two beaches perfect for watersports, and many bars and restaurants worth exploring.
Masca: This remote village in the Teno Mountains features a wealth of local culture and a strenuous but stunning hike down the gorge and to the shore.
Scuba Diving: Year-round sun and warm waters make for ideal diving conditions. You can see the vibrant marine life up close, especially in Los Gigantes, Los Cristianos, and Puerto de la Cruz.
La Laguna: This UNESCO World Heritage site used to the capital of Tenerife and features preserved mansions from the 16th, 17th, and 18th centuries as well as artsy souvenir and bookshops.
---
Tenerife Airport & Transfers
Airport: Tenerife South Airport (TFS)
SHARED SHUTTLE
You can get a shared shuttle from Tenerife South Airport to your accommodation. This a coach transfer with multiple stops en route to your accommodation. It's the cheapest but slowest option.
SPEEDY SHUTTLE
You also can get a speedy shuttle from Tenerife South Airport to your accommodation. This also a coach transfer but with a maximum of 4-5 stops en route to your accommodation. It costs slightly more than the shared shuttle, but is faster.
PRIVATE TRANSFER
The fastest and most direct option, though slightly more expensive, is a private transfer. This is a private vehicle just for you and the people travelling with you. There are no stops and no waiting at the airport.
Average temperature
| | | | | | | | | | | | | |
| --- | --- | --- | --- | --- | --- | --- | --- | --- | --- | --- | --- | --- |
| | Jan | Feb | Mar | Apr | May | Jun | Jul | Aug | Sep | Oct | Nov | Dec |
| | J | F | M | A | M | J | J | A | S | O | N | D |
| high | 20 | 20 | 21 | 22 | 23 | 25 | 27 | 28 | 27 | 25 | 23 | 20 |
| low | 14 | 14 | 14 | 15 | 16 | 18 | 19 | 20 | 20 | 19 | 17 | 14 |
---
Top Resorts in Tenerife