European Christmas Markets 2018/19
Christmas markets provide a lovely mix of local artisan wares, seasonal trinkets and tasty local treats. To help you get the most from your Christmas market experience, we've made a list (and checked it twice) of the best destinations and when to visit. Whether you're looking for a German Christmas market or you want to travel to Budapest, Prague, Vienna or any of the other city destinations Click&Go offers, we've got something for you!
Please note that the below dates are listed as a guide only and could change - please check directly with the organisers before travel.

Berlin Christmas Markets
Berlin is home to about 60 Christmas markets each year and is one of the most popular cities to visit during the festive season. Fill your tummy with tasty Germanic treats such as Lebkuchen, Baumkuchen and Stollen and your suitcase with beautifully hand-crafted gifts and crafts. You'll be spoilt for choice!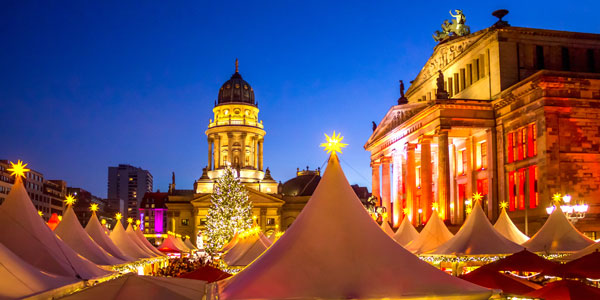 When & Where:
Berliner Weihnachtszeit – 26 Nov to 29 Dec 2018
Domäne Dahlem Advent Market – 1 Dec to 23 Dec 2018
Nostalgic Christmas Market Opernpalais - 26 Nov to 26 Dec 2018
WeihnachtsZauber at the Gendarmenmarkt - 26 Nov to 31 Dec 2018
Christmas Market at Späth'sche Baumschule – 1 Dec to 17 Dec 2018
Budapest Christmas Markets
With all Budapest Christmas markets within walking distance of each other, featuring hundreds wooden stalls offering traditional Christmas fare, it's a shopper's paradise. A giant advent calendar, live music, food and drink are all part of the festive offerings. Wrap up warm, as snowfall is a possibility in Budapest during winter months, adding to a truly winter wonderland experience.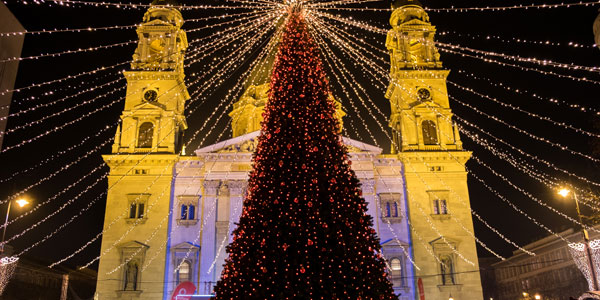 When & Where:
Budapest Christmas Fair and Winter Festival - 23 Nov 2018 to 1 Jan 2019
Date of the Advent Festival on Szt. István Square - 23 Nov 2018 to 1 Jan 2019
Advent Festival in Városháza Park - 16 Nov to 26 Dec 2018
Óbuda's Main Square - 1 Dec to 23 Dec 2018
Prague Christmas Markets
A short 10 minute stroll from each other, the two main Christmas markets in Prague are set in the city's grandest squares. Feast on smoky barbecued sausages (Kolbása), sugar coated pastry (Trdelní­k) or dripping hunks of roasted ham. The traditional wooden stalls hold an array of trinkets to take home, such as Czech crystal figurines, wooden toys and brightly painted puppets.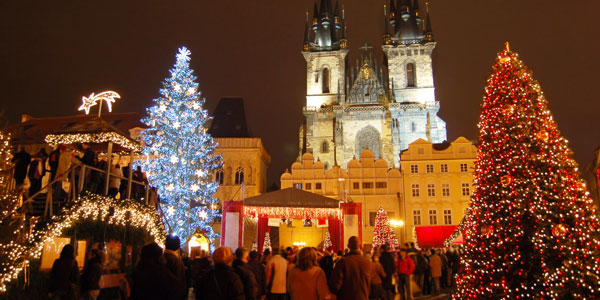 When & Where:
Old Town Square - 1 Dec 2018 to 6 Jan 2019
Wenceslas Square - 1 Dec 2018 to 6 Jan 2019
Vienna Christmas Markets
Take in the grandeur of the Austrian capital in December and it's impossible not to be overcome by the Christmas spirit, where the smell of gluhwein, sausage and nutmeg lingers in the air. Carols can be heard at many of the markets but the most dazzling performances can be heard at the Christmas Market at Rathauspark and the magnificent City Hall.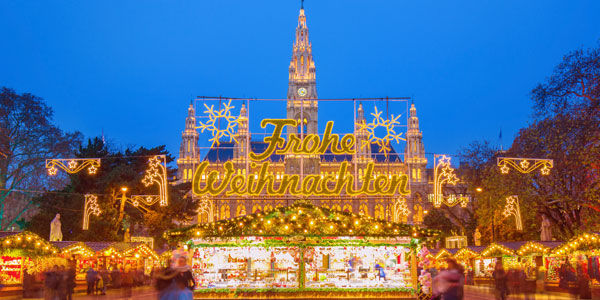 When & Where:
Viennese Christmas Market in front of City Hall - 17 Nov to 26 Dec 2018
Christmas Village Belvedere Palace – 23 Nov to 26 Dec 2018
Christmas Village Maria-Theresien Platz - 21 Nov to 26 Dec 2018
Christmas Village Former General Hospital - 18 Nov to 23 Dec 2018
Christmas and New Year's market at Schönbrunn Palace - 18 Nov 2018 to 1 Jan 2019
Amsterdam Christmas Markets
During Christmas in Amsterdam, the Museum Square turns into a festive lover's haven. The surrounding canals are lit up, the large pond is transformed into a spectacular ice rink and there are countless stalls to browse through. The Amsterdam Light Festival kicks off on 1st December and visitors can expect magnificent light displays, adding to the spirit of Christmas which is perfectly encapsulated in this stunning city.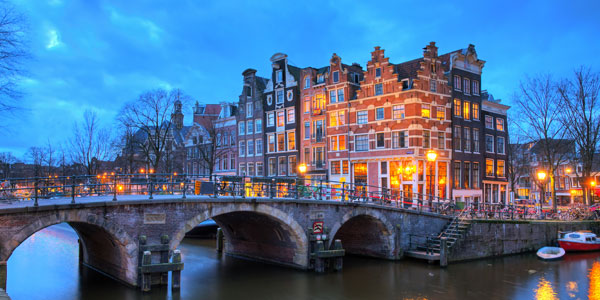 When & Where:
Christmas Village at Museum Square (Museumplein) – 20 Dec to Dec 30 2018
Bruges Christmas Markets
With a mixture of splendid medieval architecture, atmospheric cobbled squares and winding canals, Bruges offers a magnificent setting for its Christmas market. Expect lavish amounts of Belgian chocolate, waffles and gluhwein on offer. And not to worry, you can work off any over-indulgence at the prettiest ice-rink in the world, beneath the bell tower of Grote Markt Square.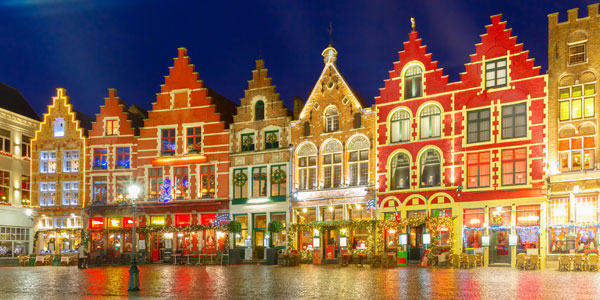 When & Where:
The Market Square and on Simon Stevinplein (Ice Rink) - 23 Nov 2018 to 1 Jan 2019
Brussels Christmas Markets
The illuminated Grand Place in Brussels offers a dramatic backdrop to your Christmas shopping experience. Traditional attractions include an ice skating rink on Place de la Monnaie, an iconic Ferris wheel, merry-go-rounds and even an Ice Monster! Brussels' Winter Wonders certainly keeps people entertained, and with handicrafts from all around Europe, it's certainly not just the centre for European politics!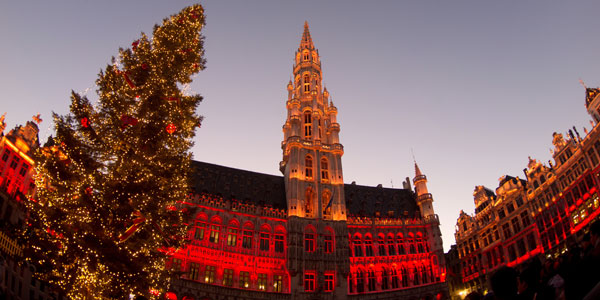 When & Where:
Brussels Winter Wonders - 30 Nov to 6 Jan 2019
Cologne Christmas Markets
The Cologne Christmas markets typically open the last Monday before advent. There is a range of markets to be found throughout the city, each with their own unique feel, but Cologne Cathedral in particular provides a breath-taking backdrop to the festivities. A towering 25 metre Christmas tree, live bands and a traditional carousel all add to the festive fun.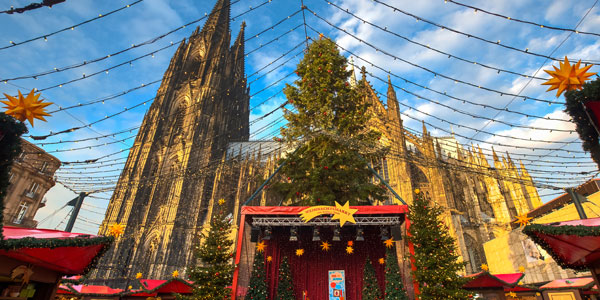 When & Where:
Cathedral X-Mas Market - 26 Nov to 23 Dec 2018
Harbour Christmas Market - 23 Nov to 23 Dec 2018
Angel's Christmas Market - 26 Nov to 23 Dec 2018
Village Of St. Nicholas - 26 Nov to 23 Dec 2018
Old Market Christmas - 26 Nov to 23 Dec 2018
Copenhagen Christmas Markets
Visit the Copenhagen Christmas Markets in the heart of the city, transformed into a winter wonderland come mid-November. 500,000 fairy lights illuminate the park while charming craft stalls line the park's pathways displaying a wealth of Christmas fare. You can even pick up a traditional Faro island jumper to keep you warm throughout your stay.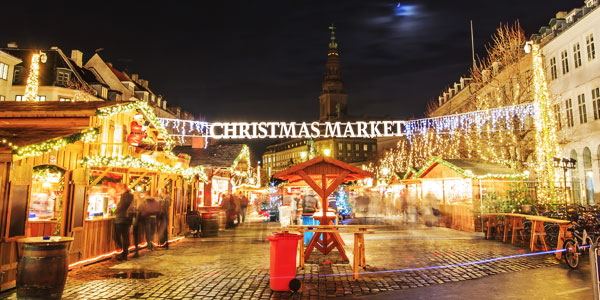 When & Where:
Christmas market in Tivoli Gardens - 17 Nov to 31 Dec 2018
Christmas market in Nyhavn harbour - 9 Nov to 23 Dec 2018
Hans Christian Andersen Christmas market - 16 Nov to 21 Dec 2018
Krakow Christmas Markets
The majestic and ancient city of Kraków is usually covered in snow during the festive season, making Kraków Christmas Markets an even more beautiful sight for its visitors. Feast on mouth-watering Polish delicacies such as dumplings with mushrooms (pierogi), ginger breads (perniki) and roasted nuts in caramel, as well as traditional items such as knitwear and locally-made jewellery.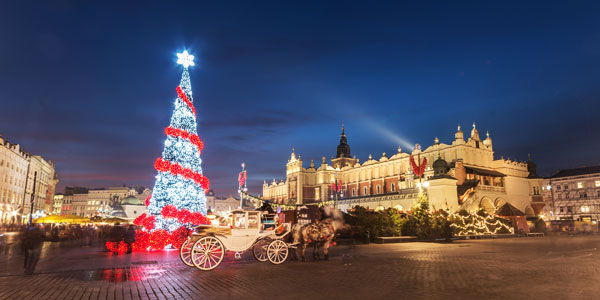 When & Where:
The Rynek, Market Square, Old Town - 30 Nov to 26 Dec 2018
Hamburg Christmas Markets
Hamburg's Christmas markets can be found in front of the pretty town hall where you can feast on traditional Christmas cookies and gingerbread, drink steaming mugs of gluhwein or join in the Christmas parade that winds throughout the German city each Saturday of advent.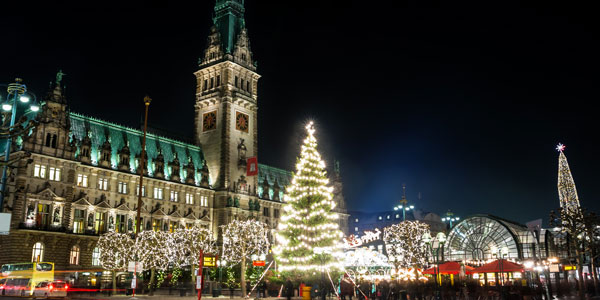 When & Where:
Historical Christmas Market at Rathhausmarkt - 26 Nov to 23 Dec 2018
White Magic on Jungfernsteig - 26 Nov to 30 Dec 2018
Christmas on Fleetinsel -26 Nov to 23 Dec 2018
Warsaw Christmas Markets
Ever since thousands of us followed Giovanni Trapattoni's ill-fated adventures at the Euro 2012 Championships, the Irish have been viewing Poland more and more as a possible holiday destination. In particular at this time of year Polish Christmas markets offer a unique seasonal experience that will leave you with unforgettable winter wonderland memories.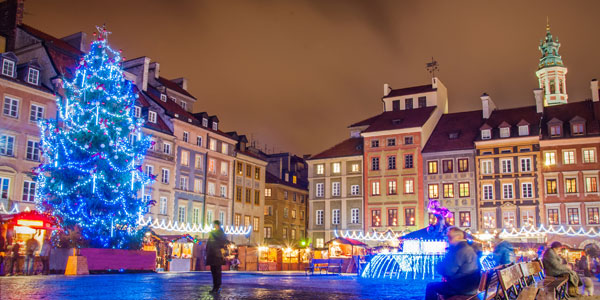 When & Where:
Christmas market in Jarmark Odwołany & Barbakan (Old Market Square) – 24 Nov to 6 Jan 2019
Frankfurt Christmas Markets
Frankfurt's Christmas markets are so popular that they have been exported to a whole host of cities including Birmingham and Edinburgh. With over 600 years of experience, Frankfurt should know how to stage a good market and that they do! Boasting over 200 decorated stalls, regular concerts and entertainment played out around the 30 metre high Christmas tree, it epitomises everything that a Christmas market should be.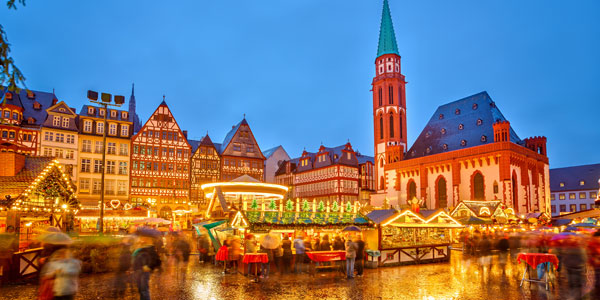 When & Where:
Römerberg & St Paul's Square – 26 Nov to 22 Dec 2018
Munich Christmas Markets
Marienplatz is the hub of Munich's Christmas market activity during advent, where you'll hear Christmas carols at dusk beneath the towering pine tree adorned with twinkling fairy lights. A few streets away at Neuhauser Strasse you'll find Germany's largest selection of Christmas mangers. The delightful nativity scenes come alive before your eyes with lanterns for the manger, fodder for the donkey and generous gifts for the three wise men!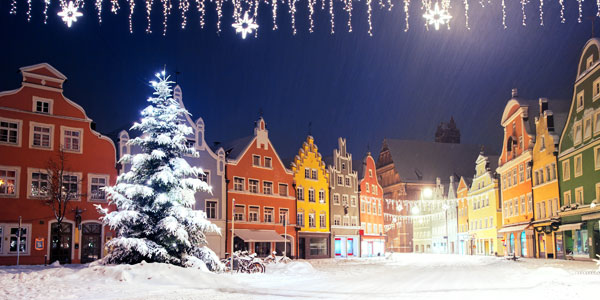 When & Where:
Munich Christmas Market at Marienplatz - 27 Nov to 24 Dec 2018
Rome Christmas Markets
Embrace the romance of Piazza Navona covered in snow and twinkling lights set amongst the backdrop of old, Roman ruins and dazzling buildings. This is the biggest and best Christmas Market in Rome and an absolute must-see for Christmas lovers.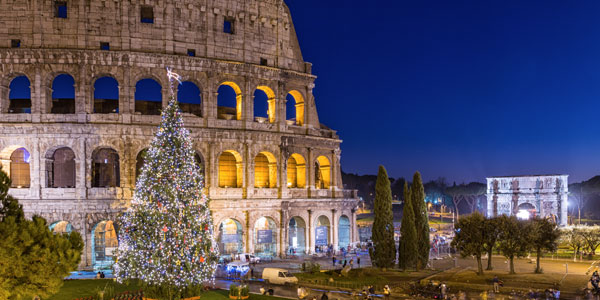 When & Where:
Piazza Navona Christmas Market – 8 Dec 2018 to 6 Jan 2019
With our great offers you can enjoy the magic of a European Christmas Market for less than you might think. All our Christmas market packages from Ireland include return flights and centrally located hotels. So book your Christmas market break today and prepare for a level of festive indulgence that would horrify the Grinch!